WET SET FAQ
Shopping Cart vs Members Area
ONE SITE - two ways to buy!
---
You can choose to buy individual items for download or mail delivery from the shopping cart OR you can join the Wet Set Members Area.
The Members Area contains a mixture of photosets and movies that are available on the shopping cart and others which are not. For a full list of what's in the Members Area look at the
Members Area Updates.
Mobile version
---
We now have a new mobile version of the website. Your mobile device should automatically be detected and you will be directed to the mobile version. If you prefer to access the desktop version instead, the link to switch is at the bottom of the keft side menu. (Note that cookies must be enabled for this to work properly).
Products Wont 'Add to Cart'
---
We have noticed an error in our cart which will not allow some users to add products to their cart on the first try. We are currently in the process of fixing this error, as an interim solution until this problem is fixed, please navigate to the
'Cart Contents'
page, and click on the button
'Continue Shopping ->'.
This should then allow you to start adding products to your cart.

Movie Producer Subject Guide
---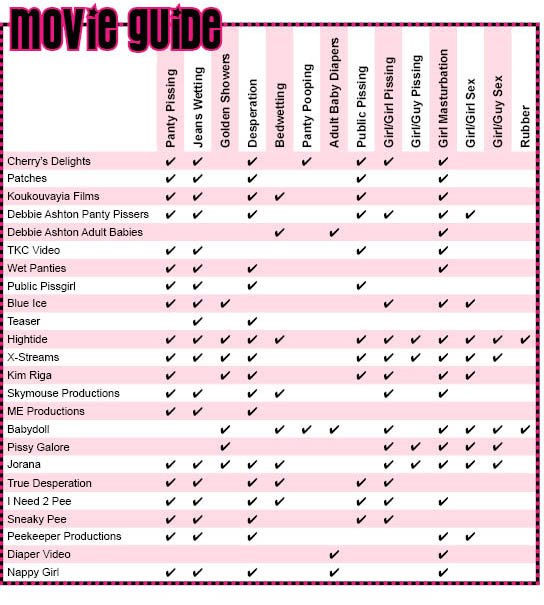 Search Bar
---
The search bar is located in the top pink bar of our website. You'll find our search bar a useful way to filter Wet Set's extensive product range, comprising of photosets, Cds, Movies, art-books, storybooks, downloads, novellas, wet panties and magazines. Try searching on the name of your favourite Wet Set model, or her hair colour, or you could even try "pink", if you like seeing wet and diapered girls in pretty pink clothes. Of course if you know the name of the product you are looking for, you can also use that as a search term.

Related Products
---
Most products you will browse will have a 'related products' section where you can see other similar items you may enjoy. If, for example, you are looking at a photoset, in the related products may be the issue of Wet Set the girl appeared in, a movie she starred in, and one of her other photosets. Or perhaps she's in jeans, and the related products might include some of our other models also wetting their jeans. Either way, they're stuff we think you'll enjoy!